Magnesium Oxide Boards in Action
Follow the photo above for full length video or at YouTube: https://youtu.be/Xe5Xc7Mg5mg
Northern Ireland Fire & Rescue Service (NIFRS) responded to a fire incident in a large open span warehouse on Thursday 14th November 2019 at 21:10 GMT. NIFRS (2019) reported that firefighters worked tirelessly throughout the night, fighting in difficult conditions. At the height of the incident, NIFRS sighted the collapse of the high rack shelving and roof, along with a total of 13 fire appliances and 60 fire personnel involved at the scene (NIFRS, 2019). The NIFRS incidents (2019) noted, that the fire crew had responded quickly to prioritised early prevention in stopping the spread of fire to adjoining businesses seen in Figure 1. The level of risk was unknown for these businesses, further adding to the uncertainty of the situation.
Figure 1:          Premises and surrounding businesses at risk of thermal conduction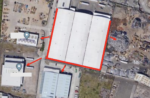 The Magnesium Oxychloride boards also referred to as Magnesium Oxide (MgO) boards played a vital role in this incident, ensuring the fire was quickly contained. During construction in 2006 (RUBB, 2009), the building design incorporated the MgO boards as vital components built-in for passive fire protection (PFP) and overall fire safety strategy of the building.
Figure 2:          Magnesium Oxide (MgO) boards remaining intact along with structural bones of the building.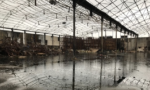 The building was declared safe on 18th November 2019 at 20:10GMT. The MgO boards had provided an example of PFP in action, performing in the expected manner of mitigating, containing and compartmentalising the fire within the premises. In Figure 2, for the most part many of the MgO Boards remain unscarred, there is also evidence of some charring in the areas where the fire was being contained. Therefore, providing a safeguard to surrounding businesses and reduced risk for the fire crew, showing the practical implications of having passive fire protection in place.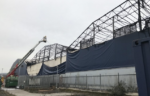 Resistant Building Products, MgO building boards are tested to the highest fire rating. They are awarded in accordance to EU classification for reaction to fire performance with EN 13501-1: 2007 + A1: 2009, which is Euroclass A1 non-combustible. The BRE Global Test Report can be found here at: Non-Combustibility Report. 
Additionally, Resistant Building Products exceed current legislative and regulatory requirements, the boards are independently tested and third party certified for added reassurance to the construction community.
Benefits of using MgO boards:

✅ A1 Non-combustible to EN 13501-1

✅ BBA Certified

✅ Easy Installation Process – Score and Snap

✅ Easy Fixing Method

✅ Moisture Resistant

✅ Category 1 Racking Strength

✅ Environmentally Friendly

Full information on features and benefits can be found in: Downloadable Documents
The resilience of the magnesium oxide building boards, highlights that overall fire-safety strategy should be embedded into the planning process and design of a building. This largescale open warehouse fire could have cause detrimental effects to safety of others and cause widespread fire to adjacent buildings within the vicinity.  It is important to have PFP materials such as, MgO building boards which can mitigate, contain and compartmentalise fire. This is vital to the integrity of the building and assures confidence within the construction community.
Regular updates are also available on our social media pages: LinkedIn, Facebook & Twitter.
For further information contact us on: info@reistant.co.uk or 028 9074 9400 
References
NIFRS (2019) Incidents of Note. Northern Ireland Fire & Rescue Service. Available from: https://www.nifrs.org/incidents/ [Accessed on: 02/03/2020]
BRE (2014) BRE Global Test Report. Available from: https://www.resistant.co.uk/app/uploads/Non-Combustibility-Report.pdf [Accessed on: 12/03/2020].
RUBB (2009) Tradewood & Co Wood Storage Warehouse. Rubb Buildings. Available from: https://www.rubbuk.com/tradewood-co-wood-storage-warehouse/ [Accessed on: 12/03/2020].